Infant Daycare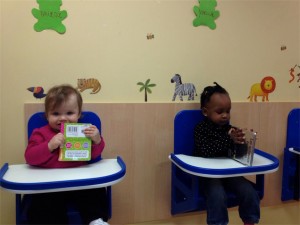 Garderie Tweetoons' infant program caters to the needs of each individual child.
Our loving and nurturing caregivers undertake activities and regularly engage with your child to promote curiosity and facilitate the early development of cognitive, motor and social skills. We also work to incorporate a child's family home practices into our caregiving setting. Some examples include family traditions, schedules such as feeding times and introduction to toilet training and other routines. By implementing these consistent practices, we establish trust and security between your child and our educators.
Daily indoor and outdoor activities designed in our program take place in a safe and stimulating environment. These activities include group games with peers, songs, storytelling, playing with age- appropriate toys and arts and crafts. We provide the tools needed for your children to safely explore and become self-aware.
We believe that communication is important when building a long lasting healthy relationship between caregiver and infant, as well as caregiver and parents. Our caregivers use age-appropriate verbal and non-verbal communication techniques with each of our children. Each infant is unique and requires a personalized approach depending on his or her temperament and needs.
OUR PROGRAMS: