West Island Private Daycare
Garderie Tweetoons is a West Island (Dollard des Ormeaux (DDO), Pierrefonds and Roxboro) daycare providing early educational programs and child care. We strive to provide excellent daycare services that effectively shape your child's education and development.
A Few Words About Us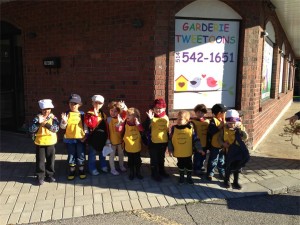 If you're looking for a secure, loving, educational environment for your child, look no further!
Tweetoons Daycare is a bilingual (English/French) and modern establishment designed to house your child safely and securely, allowing you to attend to your daily activities with peace of mind.
We are a West Island private daycare serving Dollard des Ormeaux, Pierrefonds and Roxboro.
Our mission is to provide you and your child with the very same loving and stimulating care we would want for our own children. We ensure that we accomplish this through every facet of our service.
We have a capacity of 79 children with
15 babies up to 18 months
64 toddlers and children from 19 months to 5 years
Why Choose Us:
Tweetoons West Island private daycare's facilities are designed to enhance your child's learning experience through imagination and play.
Our classrooms offer:
A bilingual (English/French) curriculum geared at age-specific learning and development
Licensed educators and administration that are knowledgeable, experienced, dedicated and dynamic professionals
5 spacious classrooms to focus on age-specific learning and development
Introduction to the digital age with computer station(s) for the older children
Access to different forms of educational media (music, educational toys and videos)
We offer a fresh, clean, friendly and loving setting within a well-designed, secure and spacious facility and boast:
On-site fully equipped kitchen where all meals are prepared fresh each day following the nutritional standards of Canadian Food Guide (see our menu)
Large parking lot for easy access and security of you and your children
Secure double-door entrance with intercom/camera screening for entrants
Camera surveillance in classes, hallways and the perimeter of the building
Large fenced-in playground securely housed behind daycare, away from traffic and offering a variety of stimulating toys
Age-specific bathrooms to reduce traffic
On site fully equipped laundry room for washing the children's bedding
OUR PROGRAMS: